Blowing smoke. B.S. Smoke and mirrors. Whatever term you use, when it comes to "going green" and sustainability, a lot of companies market their messages well. But are they following through?
I often use the word "fad" to describe the increased focus on eco-friendly products in our stores. Food retail is rife with them. Organic produce; free-range, cage-free and free-run eggs; and let's not forget all of the "100% natural" products on shelves. I always find myself asking… what does it all mean?
Before you get any ideas — I absolutely value sustainability. Stewardship and caring for the earth are close to my heart. But I believe it goes deeper than marketing.
At Cayuga, our approach to sustainability is one of fundamentals. We don't want to blow smoke — we want to be as upfront as possible when we discuss sustainability with you. In other words: straight shooters. Here are the three main points of that approach.
1. Designing for serviceability alongside recyclability.
In January 2021, we got a frantic call from one of our customers. One of their refrigerated display units had fallen off the back of the truck while they were transporting it to one of their stores and was heavily damaged.
Our team was able to get the parts ordered, manufactured, shipped and installed in record time (four weeks!) and their display unit looked brand new. (If you want to see the whole story, it's here.)
One of the key sustainability fundamentals at Cayuga is serviceability and maintenance. All of our products are designed to be maintained instead of recycled if they happen to stop working.
These days, recycling is huge. So is designing products so that they can be recycled. But even if a product is designed with recyclable materials, there's still energy that needs to be expended to recycle it... and to build something else, you need to use labour and resources.
When we design, we source parts and components locally as much as possible, and failing that, North America. While overseas parts can cut costs, they can also cut corners for you, plus the issues with shipping (cost, lead time, risk). Sometimes you don't have a viable choice, but it is an exception for us to source overseas. We also only use serviceable, name-brand components that can easily be maintained and serviced or replaced easily. Add in the positive relationships we have with our vendors and you have a recipe for long-lasting, sustainable equipment.
If the case is broken, we'll fix it. We'll follow up on your phone calls and call you back. We don't like bureaucratic hurdles or red tape in a company — same as you!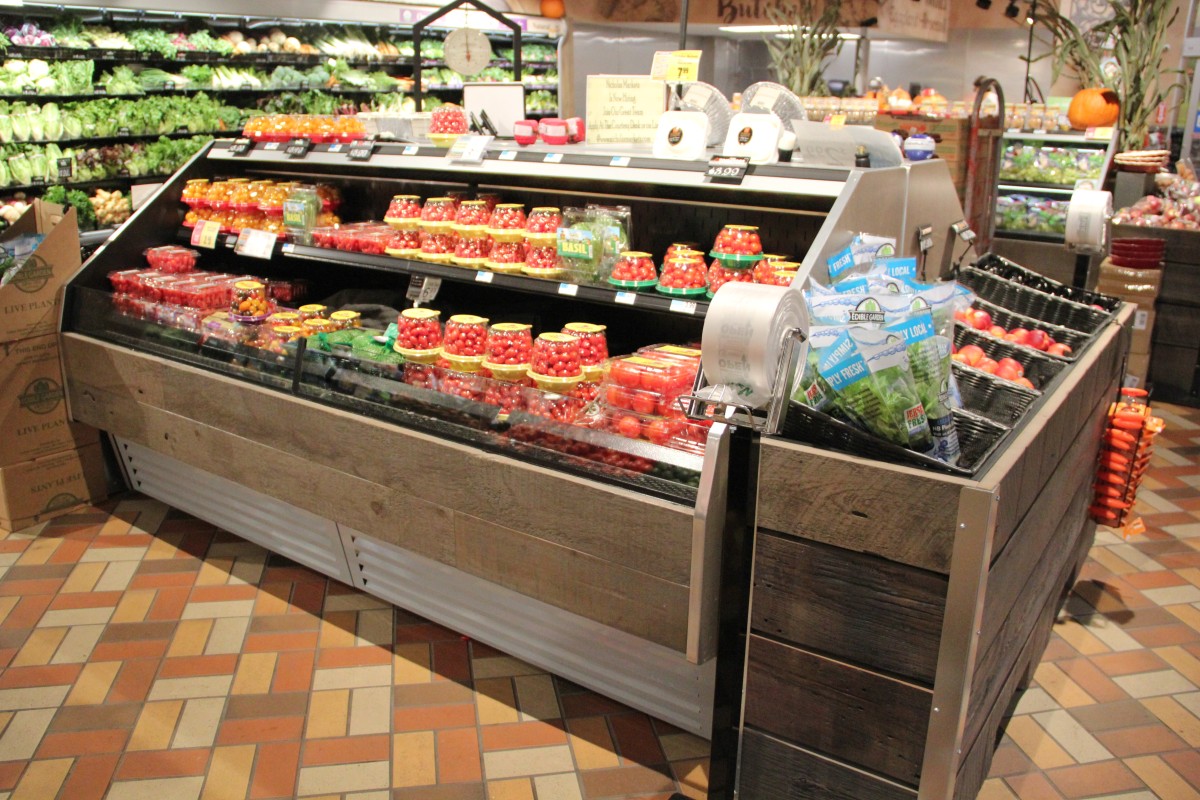 2. Designing to keep your products fresher for longer, eliminating food waste and shrinkage.
When we design a refrigerated case or hot food display, we design it to preserve your products so they stay fresher for longer.
One example is our FreshGo bin. We designed this in response to our clients wanting to use these bins for more critical temperature products, beyond just berries. Initially, these types of displays were just designed for berries and operated at non-critical temperatures. They were a great idea, but when retailers started putting critical temperature products (yogurt, cut fruit) in these displays, food wasn't staying fresh and being kept at food-safe temperatures, resulting in waste. Beyond temperature, the traditional berry bins only offered 3" of merchandising height which really limits the usefulness of the display: poor use of our limited resources.
To help solve this problem, we created our FreshGo bin design to operate at critical temperatures (even for fresh meat) and give retailers 9" of merchandising height.
Other examples include our proprietary Cold and Slow refrigeration technology which evenly distributes cool air with less air movement, reducing product shrink. We also design cases with removable/changeable panels so you can give your displays a fresh look and easily replace damaged exteriors.
3. Always innovating with an in-house research & development team.
Beyond serviceability and sustainable design, the team at Cayuga is always innovating. We have an in-house R&D team that is always on the lookout for new technologies that can improve our products. Our on-site lab is the perfect place for them to test new products, tech and the overall performance of our existing products.
One thing we're always testing for is energy efficiency and environmental impact. One major switch that's happened over the years is a move to newer greener refrigerants. Analysis of new refrigerants and the associated implications on manufacturing, servicing, and components is an ongoing process. For example, after extensive research and analysis, we decided as a company to migrate all of our plug-in/self-contained refrigerated cases to R513a refrigerant, which exceeds the EPA global warming potential (GWP) limits by almost 60%, and 55% compared to many competitors.
There's a lot of buzz in the industry right now about R-290 (propane). However, considering the current regulations in North America, availability of components in North America, cost and the issues with servicing R-290 in the field, we decided on another path with R-513a. This is an interim measure of course, but like Toyota, we believe in true innovation with purpose, not for the sake of hype. We continue to monitor developments in this space, especially what is happening in automotive air conditioning systems. All that to say… it's not just smoke and mirrors.
Ultimately, we want to be authentic when it comes to sustainability and "going green." By taking a fundamental approach that includes serviceable cases, good customer service, sustainable design and constant innovation, our goal is to make the decision easy for you.
There are Cayuga cases out there that are 20+ years old and running well, simply due to good service and maintenance — that's doable sustainability in the food retail industry.
Want to find out more about our approach? We're always happy to have a conversation. Reach out to schedule a consultation.